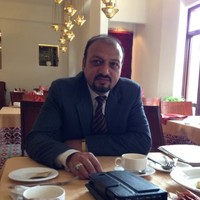 Dr Sajid Mehmood Awan
NIHCR, QAU, Islamabad.
,
The Pakistan Journal of History and Culture is amongst the most widely read research journals in Pakistan. It is being regularly published biannually since 1980 with some special issues on Quaid-e-Azam, Fatima Jinnah and the All-India Muslim League.
To assess and examine the needs and requirements of research in the history and culture of the Muslims of South Asia, Muslim Freedom Movement and the Islamic State of Pakistan;

To identify areas or aspects in these fields and conduct research thereon;

To coordinate research programmes of various universities and other research bodies in and outside Pakistan and cooperate with the activities and scholarly pursuits of all official and non-official institution engaged in this field;

To seek, acquire and preserve source material (private papers, newspapers, rare books, documents and pamphlets, etc.) relevant to the above fields;

To arrange interviews with important persons who can recall significant incidents relating to the fields mentioned above and to preserve a record of such conversations for current and further use by historians and scholars;
To reprint (with necessary editorial annotations) major and minor classics relating to the fields mentioned above which are now completely unavailable or are very scarce;

To make provision for research and advisory services and with these objectives enter into agreements with other institutions or with public bodies under prescribed conditions;

To devise and adopt ways and means to further the objectives of the Institute as a body responsible for research in the history and culture of Pakistan;

To cooperate with international research organizations, and study Pakistan in wider context of its neighboring countries.

To sponsor and commission scholarly works by persona not on the staff of the Institute;

To publish biannual Journals of high academic quality;
| | |
| --- | --- |
| Local | Foreign |
| Sayed Wiqar Ali Shah | Iftikhar H. Malik (U.K.) |
| Sikandar Hayat | Abdullah al-Ahsan (Malaysia) |
| Aftab Kazi | Isa Habibbeyli (Azerbaijan) |
| Munawwar Ali Khan | Akbar S. Ahmed (U.S.A.) |
| M. Khalid Masud | Atful Hye Shibli (Bangladesh) |
| Syed Qalb-i-Abid | Francis Robinson (U.K.) |
| Dushka H. Saiyid | M. Aslam Syed (Germany) |
| S.M. Zaman | Ian Talbot (U.K.) |
| | Shamsur Rahman (Bangladesh) |

The National Institute of Historical and Cultural Research (NIHCR) is a Centre of Excellence at the Quaid-i-Azam University, Islamabad.
Email: smawan@qau.edu.pk
Phone: 051-2896153-54/107
Pakistan Journal of History and Culture by National Institute of Historical and Cultural Research is licensed under CC BY 4.0